Beam and block floor construction methods – a historical perspective
Suspended beam and block floor construction has been an increasing popular option for house-builders since the 1970s – and this structural option now has a market share of approximately 40%.
The structure's basic design has remains unchanged – T-shaped precast concrete beams are laid in rows suspended on the inner leaf of the main walls. The gaps between the beams are then infilled with blocks.
In the earliest iterations of this system, the block material was usually concrete. Now, increasingly, architects and construction companies are specifying materials with more attractive insulating properties – and which are also easier to install.
Using insulating block infill – getting the best of best worlds
Specifying insulating materials for block infill is a win-win option. Structural integrity isn't compromised, but thermal performance is vastly improved. Additionally, many insulating materials are, by definition, light in weight. This means they can be speedily and easily installed by trained workers – and are safer to handle.
Thermal performance can be improved even further by placing a separate insulating sheet between the beam tops and the floor screed or topping
In summary, insulating block infill materials offer:
Enhanced thermal performance
Increased speed of installation
Reduced Health & Safety risk for the installer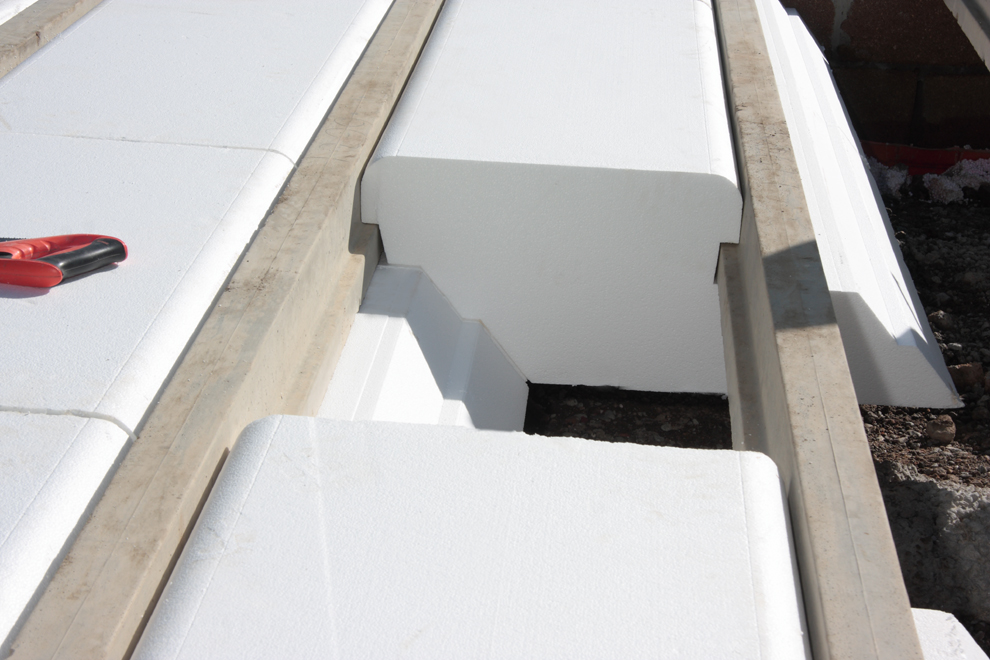 Insulating block infill materials are also driving a step change in structural design
Until relatively recently, infill blocks would be designed to lie flush with the tops of the concrete beams with the volume of the insulating panel beneath the beam. However, improvements in design mean that increasingly, we're seeing insulating layers being designed to lie between-and-over the concrete beams.
A new development from Jablite is the All-in-One Thermal Floor System which removes the requirement for an additional sheet of insulation.
What's the difference between a self-bearing and a non-self-bearing system? And why does it matter?
In a self-bearing structure the concrete beams alone provide the final strength of the floor independently of infill blocks and the structural topping.
In a non-self-bearing structure, load is shared with the concrete topping cast directly over the tops of the suspended concrete beams.
Specifications for suspended Beam and Block floor systems are covered by the harmonised European Standard BS EN 15037 which is published in parts 1 to 5:
Part 1  Beams
Part 2  Concrete Blocks
Part 3  Clay Blocks
Part 4  Expanded Polystyrene Blocks
Part 5  Lightweight Blocks for simple formwork
In addition to the beam and block / infill specification, consideration must also be given to the floor finish. This will largely be dependent on the type of substrate, the beam and infill system used and whether that system is deemed to be self-bearing or non-self-bearing as defined in BS EN 15037-1.
It's important to consider the performance parameters of each element of a self-bearing beam and insulating infill system
Pre-stressed concrete beams are designed to span the required suspended floor distances and be capable of withstanding the applied loads as a self-bearing specification. Suspended floor system providers will design the beam layouts to suit each specific application to ensure the system performs structurally.
Suspended concrete beams provide two specific support or bearing points.
Floor system designs and the products specification used will transfer loads to the beams in different ways, e.g. via point a) or point b) or a combination of points a) and b).
The final beam layout will play an important part in the U-value assessment of each design. An assessor will look at the beam centre ratio – and will use this to calculate the design's percentage of concrete versus insulation.
Some system providers hold independent certificates for their product offer. BBA, for example, provides indicative U-value and Psi values. But, while
these indicative numbers are useful, it's important that the precise thermal performance of each floor is assessed on its own merit during the design phase.
There are two types of EPS panel defined in BS EN 15037-4
Insulating infill blocks are designed to provide best thermal performance, bear the footfall loads imposed during installation and withstand both the short- and long-term loads imposed during the life of the building. BS EN 15037-4 outlines the required performance criteria for Expanded Polystyrene (EPS) Infill Panels – and it covers two types, R1 and R2.
R1 panels perform no mechanical function to the final floor system, but may act as formwork during construction of the floor.
These are generally supplied as two-part systems comprising infill panels and separate insulation over sheet or beam cap/cover – Figures 1 and 2.
R2 panels contribute to the mechanical function of the final floor system. They must be supplied as a single piece product to meet the requirements of BS EN 15037-4 – Figure 3.
Suspended concrete beams provide two specific support or bearing points – Figure 4. Floor system design and the product specification used will transfer loads to the beams in different ways, e.g. via point a) or point b) or a combination of points a) and b).
The type of panel chosen will have implications for the specification of the floor wearing surface above. This will be a timber deck, or a structural or non-structural concrete topping – and options will be defined by the type of floor system specified and the imposed loads of the building. The specification of the insulating infill panels chosen will also be a factor.
NHCB guidelines are evolving too
NHBC provides detailed guidance documents for suspended beam and infill floor systems and the accepted toppings that can be used to finish the construction. Structural screeds will be reinforced by way of either, micro fibre, macro fibre, steel fibre or steel mesh.
A recent change to NHBC requirements means that micro-fibre concrete toppings are no longer recommended over non-load bearing blocks and Type R1 insulating infill panels. The industry is currently working towards a wider range of suitable reinforced concrete toppings to assist designers and specifiers meet NHBC requirements.
In conclusion…
… the use of suspended beam and insulating infill panels is increasing for all the obvious reasons – speed of install, thermal performance, enhanced junction performance, health and safety benefits for the installer. Independently tested and certified products/systems are available and in most cases accepted for use by NHBC.